XM Video Review:
Formerly established in 2009 as Trading Point of Financial Instruments Ltd, XM is a regulated Forex broker in the Republic of Cyprus. The company was initially founded by a group of interbank dealers who wanted to improve the level of services in the Forex trading community. With XM, traders now have access to the commodities, CFDs and Forex markets.
One of the main advantages of dealing with XM is the fact that the company is based in Cyprus, a member country of the Eurozone. This mean XM meets the minimum fiduciary standard required of a financial service provider operating in the Eurozone. Incidentally, XM is also registered with the Federal Financial Supervisory Authority of Germany (BaFin) and UK's Financial Services Authority (FSA) thus giving added protection to traders.
Trading Platforms
Like its predecessor, Trading Point, XM also have a fabulous choice of trading platforms for their clients:
The Metatrader 4 Forex trading platform is one of the world's most reliable and popular trading platforms. Hence, it is not surprising to see XM making this platform available to their clients. Packed with the tools of the trade, traders can set up the XM Metatrader 4 trading platform for either manual trading or automated trading with Expert Advisors (EAs).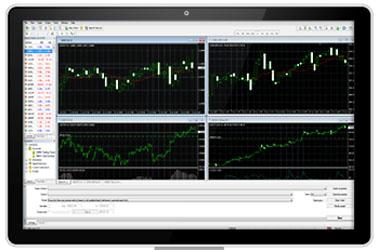 The XM Web Trader provides traders to trade in the financial markets through the internet without having the need to have specialized software downloaded.
There are three types of trading account with XM:
Micro Trading Account
This type of account is suited for those who want to adopt a low risk approach towards investing. This trading account needs an extremely low minimum initial deposit of just $5.
Standard Trading Account
The Standard Trading Account is more suited for the professional and more experienced traders. Although the benefits are the same as Micro Trading accounts, Traders with standard trading accounts can trade with larger contract size.
Other Types of Trading Account
Islamic Accounts
Recognizing that the Forex market is a global market, XM also make allowances for those traders who wish to trade in accordance with their religious belief. The Islamic trading allows traders to conduct trades based on Sharia principles.
Managed Accounts
Clients who don't have the experiences or time to trade for themselves can also rely on the additional services provided by XM through the form of managed accounts. A professional account manager will help clients' with their trades and also help to manage their funds for them.
Demo Accounts
With the Demo account provided by XM, traders can test out their trading strategies without having to risk real money. Each demo account is provided with $100,000 in virtual money so traders can try to simulate real trading conditions.
Commission & Spreads
Like most Forex brokers, XM do not charge any commission. Instead, they charge a spread on trades conducted through them. Depending on the instruments and account types, spreads start from as low as 1 pip. There is a choice of fixed spread or variable spread that traders can opt for. To provide their clients with the best possible spreads, XM also offer fractional pip pricing so prices can be quoted to the fifth digit instead of the normal four digit pricing.
Customer Support
To cater for a globalized market, XM website is a multilingual website. Languages supported include:
Arabic
Bahasa Indonesia
Bahasa Malaysia
Chinese
English
French
German
Greek
Hungarian
Japanese
Korean
Polish
Portuguese
Russian
Spanish
Thai
Swedish
Italian
Turkish
Vietnamese
Customer support is reachable 24/5 through:
–          accounting@XM.com
–          backoffice@XM.com
–          dealing@XM.com
–          hr@XM.com
–          IB@XM.COM
–          pr@XM.com
–          sales@XM.com
–          support@XM.com
–          Tel: +357 25029900 (Cyprus)
–          Tel: +64 33353327 (New Zealand)
–          Tel: +357 25029918 (Accounting)
–          Tel: +357 25029900 (Affiliate Program)
–          Tel: +357 25029920 (Back Office)
–          Tel: +357 25029900 (Customer Support)
–          Tel: +357 25029910 (Dealing Room)
–          Tel: +357 25029914 (Public Relation)
–          Tel: +357 25029930 (Sales)
–          Fax: +357 25820344 (Cyprus)
–          Fax: +64 33353417 (New Zealand)
–          Fax: +357 25820344 (Affiliate Program)
–          Fax: +357 25820344 (Customer Support)
Reliability
Reliability is reviewed from the aspect of trading efficiency as well as the ease with which the funds can be handled.
At XM, they recognized that quality execution is essential and hence their trades are executed efficiently with 99.35% of all trades completed in less than a second. They have a Strict NO re-quotes policy and all orders are 100% executed.
Can be done through China UnionPay, Credit Cards, iDEAL, Moneybookers Skrill, MoneyGram, Neteller, SOFORT, WebMoney, Western Union, Local Bank Transfer and Wire Transfer.
Supported by China UnionPay, Credit Cards, iDEAL, Moneybookers Skrill, Neteller, SOFORT, WebMoney and Wire Transfer.
Pros
To surmise, XM have several distinct advantages like:
Deposit bonus up to 5000 USD
Efficient trade execution (99.35%)
No rejection of orders (100% execution)
Strict NO re-quotes
Unique Leverage up to 888:1
Cons
The cons of XM include:
Not having any funding option for Paypal
Doesn't differentiate much in terms of benefits between the different types of trading account.
Conclusion
The rebranding exercise is indicative of the fact that XM is trying to adapt to the changing market environment. This is a positive move as it shows that the broker is responsive to their clients' actual needs. The "No Requote" policy is a good way for them to differentiate themselves from other brokers as this is a major problem faced by many traders in a fast moving market. Taken as a whole, XM seem like an ideal broker for both new and experienced traders.
Register an account now with XM.com