24option Video Review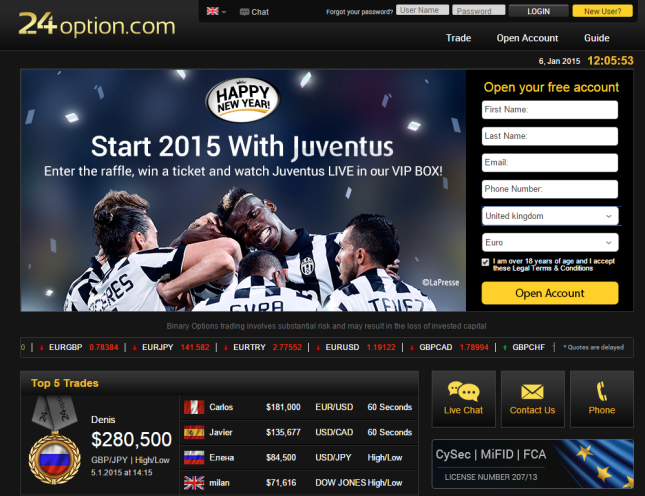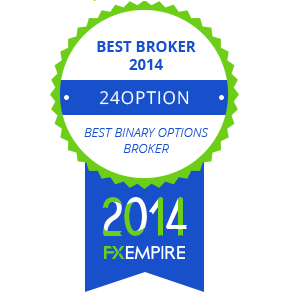 Based in Cyprus, 24option is binary broker which is a strong favourite among many binary traders today. This is largely due to the fact that this broker is a proactive broker that offers many incentives to its traders on a regular basis. It is not uncommon for traders to regularly find 24option offering cash prizes running into thousands of dollars for their monthly trading competitions. Formerly owned and managed by CBAY Financials, 24option today is under the management of a different holding company called Rodeler Ltd since late last year. The broker is still regulated and licensed by the Cyprus Securities Exchange Commission (CYSEC) under the license number: 207/13.
Trading Platform
The trading platform offered by 24option to its traders is one of the most innovative trading platforms around. While most binary brokers rely on the two leading third party trading platform providers such as SpotOption or Tradologic to supply the trading engine, 24option has chosen to take a different path by using the trading engine supplied by Tech Financials. The end result for traders is a unique trading experience in safe and secured trading environment.
Mobile Trading
Mobile trading is also extensively supported by 24option. With a secondary website optimized for smartphones and other mobile devices, traders who are constantly on the go can also easily access their accounts, check the markets and make trades without having to use a dedicated computer.
Trade Types
There are four main types of trading contracts offered by 24option. These include:
Consist of Above/Below and High/Low options
Comprises of Touch/No Touch and High Yield Touch Binaries
Include Standard Yield and High Yield Boundary Options
Binaries with short expiry times ranging from 30 seconds to 5 minutes.
Trading Accounts
Opening a trading account at 24option is easy. Traders just need to make a minimum deposit of $250 when they sign up with 24option. As for the types of trading accounts, 24option offers traders a choice of 4 different types of trading accounts, Standard accounts, Gold accounts, Platinum accounts and Diamond accounts.
No restriction to types of assets traded
24 hours customer support
Max pay-out is 83%
Apart from all the benefits of a standard account, gold account holders also earn an extra 2% on their investments + 1 free withdrawal per calendar month
Benefits of standard and gold accounts plus an additional 4% per trade unlimited free withdrawals
max pay-out is 89%
Benefits an additional 6% per trade unlimited free withdrawals
A free demo account facility is also provided but traders are required to place a deposit of $250 first before they can gain access to this facility.
Payout Ratios
As for the returns offered by 24option, their rates are one of the highest in the industry with a maximum payout of 88% for in the money trades. Out of the money trades are also entitled to a rebate of up to 15% of money invested.
Asset Index
With more than 100 different types of underlying assets, 24option asset list is one of the most comprehensive that we have ever seen. Considering the fact that there are 4 main types of trading contracts, this meant traders have extensive choice of trades that they can make.
Currencies

Commodities

Indices

Stocks

AUD/CAD
AUD/CHF
AUD/JPY
AUD/NZD
AUD/USD
CAD/CHF
CAD/JPY
CHF/JPY
EUR/AUD
EUR/CAD
EUR/GBP
EUR/JPY
EUR/NOK
EUR/TRY
EUR/ZAR
GBP/AUD
GBP/CAD
GBP/CHF
GBP/JPY
GBP/USD
NZD/CHF
NZD/USD
USD/CAD
USD/CHF
USD/JPY
USD/MXN
USD/NOK
USD/RUB
USD/TRY
USD/ZAR

Coffee
Copper
Corn
Gold (XAU)
Oil
Platinum XPT
Silver (XAG)
Sugar
XAU/EUR
XAU/JPY
XAU/XAG

ASX 200 Future
Bombay 30
CAC 40 Future
DAX-30
Dow Jones
FTSE-100
Hang Seng Future
IBEX- 35
KOSPI 200
MIB-40 FUTURE
MICEX
Nasdaq Composite
NIFTY
Nikkei 225
S&P 500
SMI FUTURE
South Africa 40 Future
TA-25
Tadawul

AMAZON
AMEX
ANZ
APPLE
AXA
BAIDU
BARCLAYS
BBVA
BEIERSDORF
BHP BILLITON
BMW
BNP PARIBAS
BP
CITIGROUP
COCA-COLA
E.ON
ENEL
EXXON
FACEBOOK
FIAT
FRANCE TELECOM
GAZPROM
GOOGLE
IBM
ICICI BANK
JPMORGAN CHASE
LUFTHANSA
MCDONALDS
MICROSOFT
NIKE
RIO TINTO
ROSNEFT
ROYAL DUTCH
SBERBANK
SOCIETE GENERAL
SONY
SUMITOMO
TATA MOTORS LTD
TESCO
THYSSENKRUPP
TWITTER
UNICREDIT
VODAFONE
WESTPAC BANKING
Customer Support
It has been said that the quality of 24option's customer support is second to none. With support in 17 major languages, it is different to find another broker in the industry that is more trader's friendly than 24option. Access to the support team is by means of email, live chat and telephone. As an added benefit, international traders will find that there is also a long list of toll free and localized numbers which they can call to reduce their telephone charges.
Reliability
Long Established Broker
Member of the Investment Compensation Fund (20,000 Euro in Protection)
Regulated and Licensed Broker by CYSEC
Reputable Broker in the Industry
Pros
Dedicated Customer Support
Attractive Range Of Incentives And Benefits
Large Cash Prizes For Trading Competition
Multiple Languages Supported
Unique And Secured Trading Platform
Wide Coverage Of Markets
Cons
Demo account require deposit of $250 before access is granted
Conclusion
In our opinion, there is no binary broker around which come close to the quality of services offered by 24option. In addition, the range of incentives that 24option offer to traders is certainly one of the most attractive around. In fact, it is difficult to find any fault with this broker.