eToro Video Review:
Over the last few years, advances in web technology have taken online trading to new heights and this has resulted in a changing trading environment. One of the few forex brokers who have been quick to adapt to changing markets circumstances is eToro. Over the past few years, due to their trading platform innovations, the company have won numerous awards from expert review companies like World Finance, Finovate Fall, Global Banking & Finance Review, MoneyAM Online Finance Awards and European CEO.
Trading with eToro offers traders several advantages like:
The ability to follow and copy experts with the eToro Openbook
Guardian Angel software to promote responsible trading
More tools to help traders trade more effectively
Trading Platform
It have been said that the alphabet 'e' in the company name stands for the fact that trading with eToro is 'easy'. Whatever the actual meaning is, eToro's trading platforms is indeed easy to operate. Currently, the company offers 3 types of trading platform:
eToro WebTrader
eToro OpenBook
eToro Mobile Trading Platform
eToro Webtrader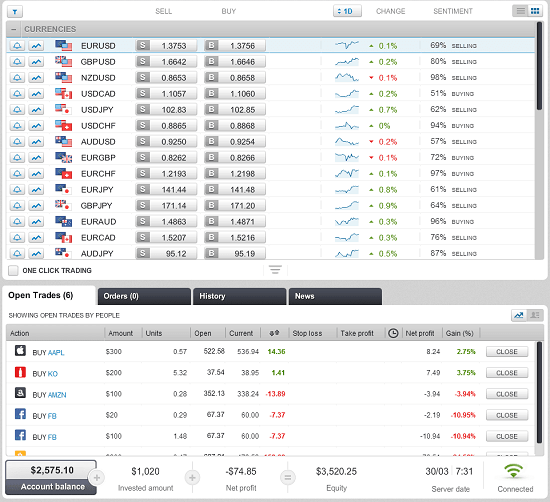 It can be seen that eToro have invested substantially in enhancing their clients' trading experiences. With their WebTrader, traders have the ability to trade from anywhere around the world as long as there is internet access. The interface design is clean and sleek and traders will not feel that there is 'informational overload'. eToro WebTrader also differs from other Forex brokers trading platforms as there is have a chat function added to the WebTrader. Traders can choose to interact with other traders in real time or they remain 'invisible' if they do not wish to be disturbed. One thing is for sure, trading with eToro is definitely entertaining.
eToro OpenBook
In an effort to add a social media element to the trading environment, eToro have come up with the eToro OpenBook trading platform. Much like Facebook, eToro Openbook allows traders to see what other traders are doing in real time. By doing so, traders have the opportunity to see what kind of strategies works or be able to get insights for new strategies. With eToro OpenBook social networking initiative, the learning curve is shorten considerably. And like facebook, traders can 'follow' and copy the trades made by their fellow traders.
eToro Mobile Trading App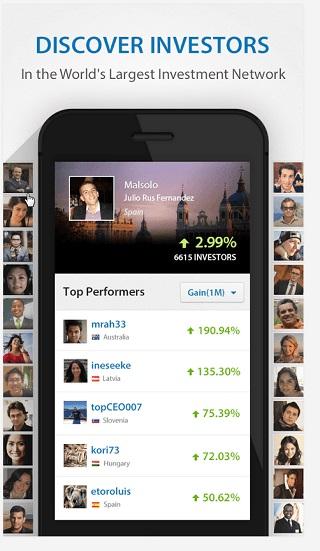 With the eToro Mobile Trading App, traders can now stay connected with their investments on their smartphones or tablets whether it is through the Webtrader or OpenBook network. The Mobile Trader represents an era of being truly mobile with your investment activities. No longer is one tied to a PC terminal when it comes to online trading. With an android powered smartphone or iPhone, traders can now virtually trade from anywhere without being hampered by a lack of computer hardware.
Types of Trading Accounts
eToro offers their clients 4 main types of trading account:
Bronze Trading Account (Basic Level)
Silver Trading Account (Intermediate Level)
Gold Trading Account (Advance Level)
VIP Trading Account (Professional Level)
Different types of accounts cater to different categories of clientele. The more funds a trader deposits, the more benefits and features he will enjoy with his trading account. The Bronze account is for those who are depositing under $1000 while at the opposite end, the VIP account is for those depositing at least $20,000.
In addition to the types of account mentioned above, eToro also offers an Islamic type of trading account. This type of account is for Muslim patrons who want to trade Forex according to the no 'Riba' principle.
Commissions and Spreads
Like most Forex brokers, eToro doesn't charge any commissions on trades executed by them. Instead they charge a small spread of 2 pips onwards. They also do not charge any rollover fees for trades that are left open overnight. However, a small fee is applicable for trades that are left open over a weekend.
Customer Service
With eToro, live customer support is available on weekdays 24 hours a day. Customer support is provided through live chat, email or through the phone. For the convenience of their international customers, eToro offer several international numbers which their customers can reach them at.
In terms of self-help, eToro provide an impressive store of knowledge here. Whatever your question may be about online trading, you can find them in the 'eToroPedia' section.
Reliability
To be classified as reliable, a Forex broker needs to make the trading experience as easy as possible. This covers not only the execution part of the trading experience but also the funding and withdrawal of profits aspect of the trading process. In this respect, eToro have provided several methods of funding one's trading account. Traders can deposit their funds by using their credit card, online payment processor like Paypal, MoneyGram, Webmoney, Netteller or with normal wire transfer and as well as Western Union.
Pros:
To summarize, eToro advantages lies in having:
Real Time Trading
Demo Practice Account
High Leverage of 400:1
Low minimum deposit required to start trading ($50)
Low Spreads from as low as 2 pips for the major currencies
Allow Social Networking to enhance the learning curve
Cons:
Of course, there is no such thing perfection. eToro's trading platforms do have a couple of disadvantages. Because we are trading in real time, anyone with a slow internet connection will find that their trading capability is less than 100% efficient. Naturally, those with faster internet connections will find themselves with more opportunities to profit from their trading.
Conclusion
Overall, eToro is setting new benchmark for other Forex brokers to follow. Their numerous awards which they have won over the years speaks volume about the effort with which this broker have invested in their trading platform to ensure that their clients come out on top of the forex trading game. And regardless of whether one is a novice or professional trader, the eToro OpenBook network as well as eToropedia ensure that everyone stands to gain from trading in Forex with eToro.