HY Markets Video Review
HY Markets Review
Based in London, HY Markets is owned by Henyep Capital Markets UK Ltd, a subsidiary of the Henyep Group. The Henyep Group is a multinational company with business interests in over 20 countries covering the financial services industry, education industry and the property sector. The group is also fairly active charity works globally.   As part of the Henyep Group, HY Markets specializes in providing online trading services to their clients in all international markets. This broker is especially popular among traders for the diverse range of product offerings such as Forex, commodities, precious metals, stocks and indices. With their easy to use integrated account, traders can trade all these markets without having to use multiple trading platforms.
Trading Platforms
With more than three decades of operational history behind them, HY Markets has become the trading platform of choice for traders who want to seek direct and quick access to the financial markets. Their long standing experience and commitment to their clients have enabled them to develop four main types of trading platforms that suit their clients' needs. They include:
HY Webtrader
HY MT4 Download
HY MT4 Webtrader
HY MT Mobile
HY Webtrader
Highly acclaimed, the web based HY Webtraderis a revolutionary Easy-To-Use trading platform allow traders to access all financial markets from a single interface.
HY MT4 Download
The industry leading platform, the HY MT 4 platform is downloadable and is the platform of choice for many experienced and professional traders.
HY MT4 Webtrader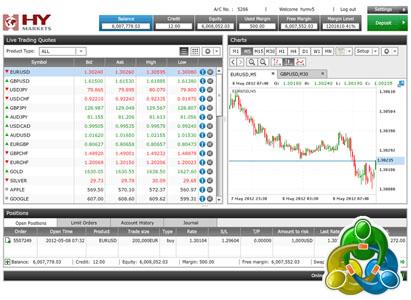 This platform has the same look and feel as the industry leading MT 4 platform. The only difference is that this platform is completely web based and requires no downloading on the trader's part. By providing traders with such a high quality trading platform, HY Markets aim to cut down the learning curve for traders switching from the traditional MT 4 trading platform.
HY MT Mobile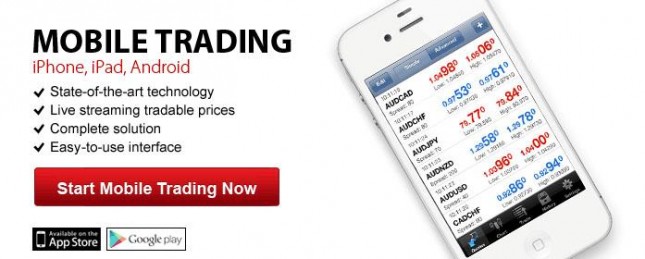 In order to cater to an ever mobile trading community, HY Markets have also come up with several trading applications that can be used seamlessly on mobile devices and Smartphones.
Account Types
There are essentially four types of trading accounts at HY Markets. They comprise of:
Mini Trading Account (Ideal for New traders)
Minimum deposit of $50 to open
Leverage at 1:300
Low spreads starting from 1.8 pip
Trade size is 1/50 of premiumcontract size
Standard Trading Account (Suitable for more experienced traders)
Minimum deposit of $750 to open
Leverage at 1:300
Spreads starts from 1.8 pip
Trade size is 1/10 of premium contract size
Premium Trading Account (For traders who want VIP treatment and advanced trading tools)
Minimum deposit of $2500
Leverage at 1:300
Minim spreads starts from 1.8 pip
Regular contract size
HY Pro Trader Account (For professional traders trading in higher volumes)
NDD with straight through processing
Minimum deposit of $10,000
Leverage at 1: 100
Lowest spreads starts from 0.5 pip
Trade size is ½ of premium contract
Commission & Spreads
Normal spread at HY Markets 1.8 pip spreads. For lower spreads, traders can opt to trade with NDD trading account. Spreads with this type of trading account starts from 0.5 pip.
Customer Support
Customer service at HY Markets is top notch and is available 24/5. There is a personal account manager assigned to each client to provide them assistance in any way they can.  To reach customer support, HY Markets has provided several avenues:
Call Back
Email
Live Chat
Telephone
Reliability
No doubt as part of a multinational conglomerate, HY Markets takes market perceptions of its reliability very seriously. Hence, you will find that they follow standard operating procedures very closely when it comes to withdrawal of funds. Fund transfer is fast and efficient and can be done through the original method of fund transfer. These include methods like:
Credit Cards
PayPal
Web Money
Wire Transfer
Being regulated by the FCA also helps to ensure that the traders' legal interests are protected such as access to the Financial Services Compensation Scheme(FSCS). In addition, funds are kept segregated and HY Markets only deal with top tier banks.
Pros
24/5 Personalized Customer Support
Choices Of Multiple Trading Platforms
Continuous Market Updates
Easy Registration Process
Established Market Leader With Reliable Service
Fscs Protection
Full Range Of Product Offerings
Low Minimum Deposit
Regulated Broker
Cons
No Automatic Welcome tutorials
Conclusion
HY Markets offer one of the most beginner friendly brokers around. With their low minimum initial deposit of $50, who couldn't afford to open a trading account with them? Furthermore, a personal account manager on hand, traders can rest assure that their needs will be well taken care of by this broker.