TradeRush Video Review
TradeRush Review
Established recently in 2011, TradeRush is a late entrant to the binary options brokerage industry. Based in Cyprus, TradeRush is regulated by the Cyprus Securities Commission (CySEC). Even though this binary options broker has only been operating for around two years, it is well regarded by many traders for the high quality of their services. They are credited as being the creator of the 60 second options trade. With high returns of up to 81% from a single trade and a diverse range of assets to trade in, it is not surprising to find TradeRush is expanding its market share at a phenomenal rate.
Trading Platform
Powered by SpotOption trading engine, TradeRush's trading platform work pretty smoothly. The interface is designed in such a way so traders will have no problem navigating their way around. Simple to use, trading transactions can be completed with as little as 4 clicks of the mouse. Being a web based trading platform, there is no need to download any software in order to make the trading platform functional. Once a client has opened and deposited his funds, he can start trading straight away.
Notable Features of the Trading Platform
The TradeRush's trading platform has two notable features which makes it stand out from the rest of the crowd.
When things are looking up, traders can use this feature to create a new trade with the same trading conditions as their initial trade. By letting traders double up their investment, TradeRush also allow traders to potentially double up their profits
This feature can be used as a stop loss tool by letting traders extend the expiry period of their options. Hence, traders can essentially "buy" more time with just a click of the mouse when the market is not performing according to expectations.
Mobile Trading
Developed by third party developers, traders also have the option to download applications for their android or iPhones to enable them to trade with their mobile devices.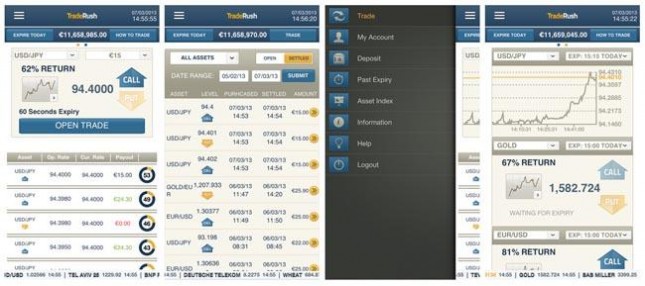 Trade Types
At TradeRush, traders have the ability to make the following types of trades:
The most popular and simplest type of binary options to trade with. Returns can be as high as 81%.
Essentially a Call/Put option but with an expiry time of 60 seconds. Ideal for those who wants to make a quick return
With an expiry period of up to a week, traders can reap a return of up to 500% if their trade is in the money.
Let traders decide their expiry times hence letting traders have an element of risk management.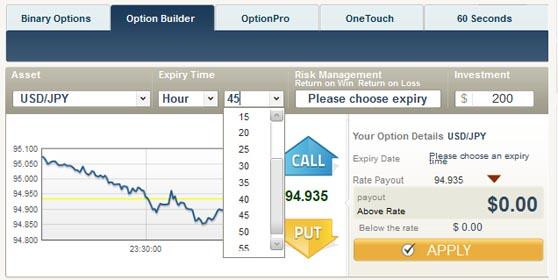 Also with variable expiry settings, this type of trade also allows traders to have a better view of the trading charts while they are trading.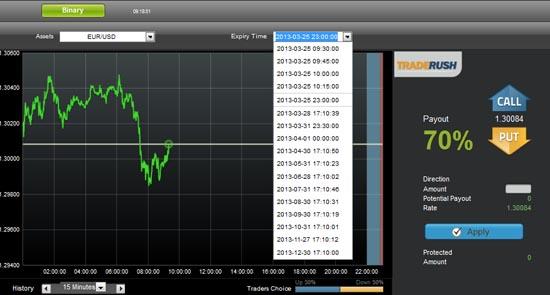 Payout Ratio
The payout ratios at TradeRush depend on the type of trades made. The average return ranges from 71% to 81%. For One Touch trades, the ratio is as high as 500%. Out of the money trades still entitle traders to a refund of 15%.
Asset List
At TradeRush, there are around 90 underlying assets in four different classes to deal in. Below is a list of underlying assets that are available for trading.
Commodities
Currencies
Indices
Stocks
Coffee

Corn

Cotton

Crude Oil

Gold

Platinum

Sugar

Wheat

AUD/JPY

AUD/USD

CAD/JPY

EUR/GBP

EUR/JPY

EUR/USD

GBP/CHF

GBP/JPY

GBP/USD

NZD/USD

USD/CAD

USD/CHF

USD/JPY

USD/RBL

USD/RUB

USD/SGD

USD/TRY

USD/ZAR

BSESN (Bombay)

DAX 30 (Germany)

DFMGI (Dubai)

Dow Jones (U.S)

DSM 20 (Qatar)

EGX 30 (Egypt)

FTSE 100 Index (UK)

Hang Seng (Hong Kong)

ISE 30 (Istanbul)

KLIc1 (Malaysia)

KWSEIDX (Kuwait)

MICEX 10 (Moscow)

MSM 30 (Oman)

NASDAQ Composite (U.S)

NASDAQ-100 (U.S)

S&P 500 (U.S)

S&P 500 Future (U.S)

S&P/ASX200 (Australia)

SSE180 (Shanghai)

Straits Times Index

TASI (Saudi)

AIG

Amazon.com, Inc

Apple Inc

BAE Systems plc

Barclays

BIDU

BNP Paribas

BP plc

Caterpillar

Citigroup Inc

Coca-Cola

DELL

Deutsche Telecom

Disney

Exxon Mobil

Facebook

FIAT

Gazprom

General Motors

Goldman Sachs

Google Inc

Groupon

HSBC Holdings Plc

IBM

JP Morgan

Las Vegas Sands Corp

LinkedIn

Lukoil

MasterCard

McDonalds

Netflix

Nike Inc

Paris Telecom

Petrobras

Reuters Group Limited

RIO T. Vs BHP B

Rolls-Royce plc

Sberbank Rossii

Tata Motors Limited

Tesco

Total

Turkcell

Unilever
Reliability
Traders at TradeRush have the convenience of several methods of fund transfer. Major credit cards like Amex, Diner's Club, MasterCard and Visa are supported. Credit cards transfer is the most expedient method of transfer with a processing time of 24 hours at the most.
Apart from credit cards, traders also have the choice of other payment processors like Moneybookers, Liberty Reserve and wire transfer. All these methods are reliable, secured and efficient with very little chance of their integrity being compromised.
Customer Support
One of the ways which you can determine if a broker is serious about their business operation is by looking at how serious they take their customer support service. Apart from the usual live chat, call back request, traders can also email them at Support@TradeRush.com and Tech@TradeRush.com for assistance. For more urgent cases, there are several international support numbers that traders can call the support team at:
1-800-986-6318 (U.S)
0-800-91-66-18 (France)
971-4-445-7925 (UAE)
0-808-189-1458 (UK)
1-800-256-846 (Australia)
03-4579-0341 (Japan)
34-91-2901497 (Spain)
49-711-2184-3186 (Germany)
Pros
Even though TradeRush is a relatively young trading platform, they are worth a serious consideration due to the following reasons:
Efficient Trading Platform
Large Diverse Asset List
Good Customer Support
High Returns
High Welcome Bonus
Low Minimum Deposit And Trade Requirement
4 Main Types Of Trade
Mobile Trading Supported
Fast Processing Of Withdrawal
Cons
When you go over what TradeRush is offering their clients, there really isn't anything to complain about. Despite being established only in 2011, they seem to be a pretty mature business operation.
Conclusion
TradeRush had made it very easy for anyone to access the financial markets with their low minimum deposit requirement of $200. But what I like about them most is the fact you could trade with an amount as low as $5! Very few brokers had made it that affordable. If you are looking for a binary options broker to deal with, I seriously urge you to consider TradeRush as one good possibility.